Central Coast Real Estate!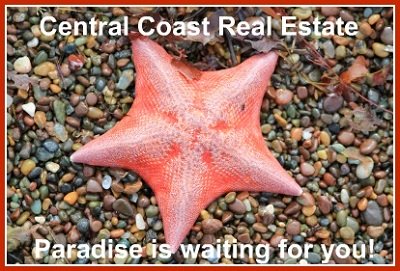 Central Coast Real Estate awaits you

! Living or investing in paradise is possible. If you want to live on the Central Coast of Calfiornia now is the time to make that

dream come true

. Believe me, you can have your own star property on the coast if you believe you can. Dreams do come true!

You may dream of owning a vineyard. You might have the deserve to live in a house with an

ocean view

. It might be you just want to live in an art community or a surfing community...well Central Coast Real Estate is available at great prices.

We live in Cambria, California

"Paradise"

as many call the community and the surroundings. My wife had a dream about living on the coast. She lived in the valley but always wanted to be next to the ocean. It took her a few years to put the deal together but her dream did come true.
My journey to the coast of California was a little different. I never...never in a millions years thought I would ever be in Cambria, California. I was in Biloxi, Mississippi working for a great organization, loved my job and all of a sudden a hurricane named Katrina blew me all the way to Cambria, Ca. I couldn't believe I landed in Paradise but I did and I love it on the coast.
What we want to accomplish on this page is to give you hope of buying or moving to the Central Coast of California and directions about who to contact. We want you to find agents on the coast you can trust. We are going to sift through the Real Estate Agency and find the very best and list them on this page. You have to trust the person and company you do business with. We want your dream to come true.
If you will click on Homes & Land Magizine you can get a good overview of what is available.
Homes & Land Magazine - Coast Real Estate.
. Let me suggest you take a look at the Magazine. We cannot recommend anyone at this time but we are working on finding special people to deal with special people. Coast Real Estate is available today!
Travel Booking Deals
Central Coast Travel Adventures is excited about the opportunity to help you book flights, cars, motels, hotels,and tours. We are here to serve you and make your visit to the coast a visit to remember.
Expedia - If you are looking for great deals Central Coast Travel Adventures aims to please. Get great travel deals on Expedia.ca
Kayak - In addition to travels deal with Expedia we also provide you with options for booking with Kayak -
Compare hundreds of travel sites at once to find the deal that's right for you.

Hotwire - That's not all if you want one more option try Hotwire.com
Central Coast Travel Adventures wants you to get the best deal possible on rooms etc.