Cambria, California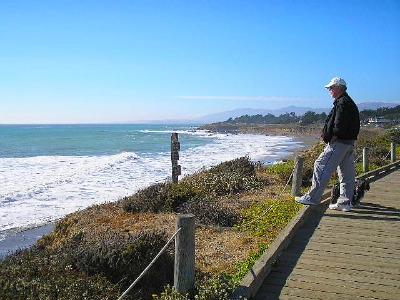 My first walk on Moonstone beach was unforgettable. It was cold and the distinct smell of sea salt sent a charge of excitement into my soul. I was home. After years of heat, humidity and hurricanes I was home. I had never been here before but I knew I was finally home.
For years I dreamed of a place like this but now I was finally where I belonged. The sound of the waves brushing and bursting against the rocks made me think of Blue Whales and great White Sharks. The pines brought memories of the Smokey Mountains but now I had an ocean with big waves to enjoy.

The short pants I was wearing would have to be replaced with long pants. It was cold. It didn't take me long to realize coats, sweaters and sock hats are the proper attire for Moonstone Beach.

If you forget your sweater or need a warm hat you can go to Cambria Wildwood the "outfitters for the good life". This little store is owned by friends of mine. I promise, you will find some nice, warm clothes to fit your adventure.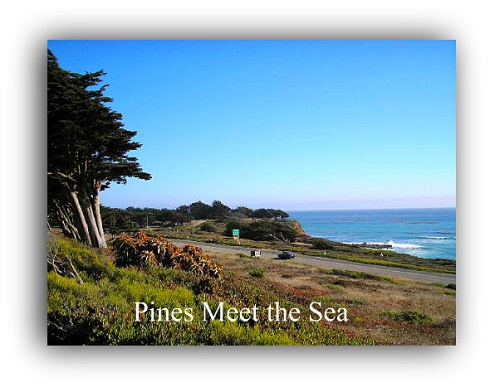 Three Important things To Know!
DO - Hearst Castle is the number one attraction and the Elephant Seals come in a close second. Take a walk on Moonstone Beach and feel the cool breeze refresh your spirit. You have to see Nitwit Ridge and then grab a cup of fresh coffee at one of the many coffee shops.

Shopping is a unique experience in both villages so don't forget to make time to look in our shops and galleries. While you're shopping, make sure to stop into best hat store this side of the Rocky Mountains, Wildwood, and say hello to Mary my wife. Don't forget our state parks. In the near future I will tell you were to find the state parks and and the features of each park.

The local chamber of commerce has provided a neat little map to help you find everything in our area, including all the trails and state parks. All you have to do is Click Here.

The chamber will be glad to assist if you need help once you arrive in town. The chamber is located in the west village right next to The Coffee Den. Be sure to stop in and say hello and tell them Bob Sent you.

For detailed information on things to do in Cambria. California click on the links below.

1. Moonstone Beach CLICK HERE
2. The Pinedorado Festival CLICK HERE
3. Cambria Hiking Trails CLICK HERE
4. For Maps and Directions CLICK HERE
5. For Art Galleries CLICK HERE
6. For a visitors guide CLICK HERE
7. For shopping information CLICK HERE
8. List of Cambria Events CLICK HERE
9. Cambria Farmers Market CLICK HERE
10. Surfing Moonstone Beach CLICK HERE
11. Leffingwell Landing CLICK HERE
12. Cambria Historical Museum CLICK HERE
13. Nit Wit Ridge CLICK HERE.
14. A Trip to the Beach CLICK HERE.
15. Christmas in Cambria CLICK HERE.
16. Cambria Business Center CLICK HERE.
17. Treasure Hunting CLICK HERE
18. Scenic Drive Click Here
19. Cambria Boardwalk Hikes Click Here.
20. Tin City Businesses Click Here.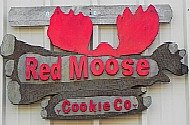 The Red Moose Cookie Company Homemade Gourmet Cookies, Fudge Brownies Their Specialty "Naughty Rods" Curious? 2531 Village Lane Cambria, CA. Click on the Image to get directions.
22. PolyPro Window & Door Company Click Here



STAY -

Do you want to stay in a motel on Moonstone? We have a wide selection of motels and Bed & Breakfast. You might be interested in camping in one of the state parks. Don't worry we have plenty of places to stay. Vacation rentals are also available. Most of the time our hotels and motels stay book. Make sure you book in advance.



EAT- Fine dining, casual dining or maybe just a quick hamburger, whatever you are hungry for is located in our unique list of eateries. Some of the restaurants will even allow your dog to dine with you. For information on restaurants CLICK HERE

We will make direct recommendations on where to eat in Cambria. Every restaurant we list are places we have dined. If we are not totally satisfied with the service and the food we will not list them on this site. We want you to have the best dining experience on your visit to our home town. Take a look at the list below and click on the link for more information.

1. Old Stone Station Click Here.
2. Creekside Gardens Cafe Click Here.
3. French Corner Bakery Click Here.
4. Sandy's Deli Click Here
5. Cambria Cappuccino Click Here