San Luis Obispo, California

San Luis Obispo



- One of our favorite towns on the Central Coast of California.
My wife and I live in Cambria and we love the atmosphere of an extremely small community. However, when we want to get out of the woods we always head for San Luis.
The town has a variety of really unique and cool shops. You can also find fantastic restaurants.

I have been on the Central Coast for five years but I remember the first time I went to San Luis by myself. I needed to go to the DMV and I was convinced I could find the place. Of course I got lost and finally just headed back to Cambria defeated.

San Luis can be hard to navigate so we are going to include location codes to place in your phones Click Here San Luis Obispo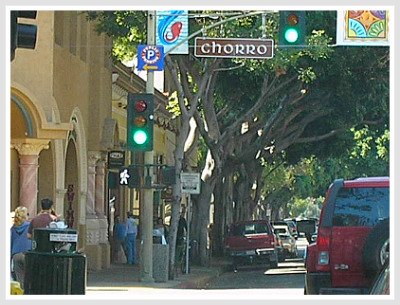 The down town area of

SLO is exciting

and filled with cultural statements concerning this educational village on the Central Coast of California.
My wife and I love to visit

Mission Plaz

a. According to the cities website, "In 1772, Father Junipero Serra founded Mission San Luis Obispo De Tolosa near the banks of San Luis Obispo Creek. Today, the Old Mission still holds regular services, and is the focus for the city's most cherished public open space—Mission Plaza. It consists of a two block area with a large public plaza, seating areas, and pathways between the Mission and businesses on the opposite side of the Creek. The plaza has continued to grow and evolve in phases over the last two decades. To read the history of SLO
Click Here.
Every Thursday night

, in the down town area the city host a farmers market. You can find fresh vegetable, hear live music and enjoy socializing.
When my wife and I have time, we head for the farmers market in SLO. We love to buy the fresh fruit and flowers provided by the local farmers. Make sure you take a little time and visit the farmers market.

You will love the experience

.
California Polytechnic University
Cal Poly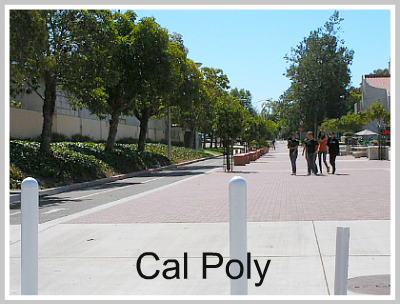 Cal Poly cannot be ignored when you mention San Luis Obispo. This town is a college town with an atmosphere of intelligence and knowledge. According to the
Cal Poly website
, "
Cal Poly is a nationally ranked, four-year, comprehensive public university located in San Luis Obispo, halfway between San Francisco and Los Angeles on California's Central Coast. It is a distinctive learning community offering academically focused students a hands-on educational experience that prepares them for today's scientific and technical world." To learn more about this extraordinary university
Click Here.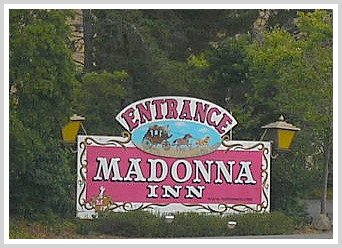 If you have never been in the Madonna Inn in SLO you don't know what you are missing. The food is special but the architect inside is as unique as the food selection.

The first time I went to the bathroom in the restaurant I was taken back by cave looking appearance and copper settings. Believe me, they don't have anything like that in Mississippi.

When my wife and I got married we ordered a special white chocolate cake from the bakery. The cake was absolutely amazing. Yes, it tasted fantastic but the look and shape of the cake was special. I highly recommend the bakery.

The Madonna Website says it best, "
For nearly 50 years the charm of the Madonna Inn has been one of California's landmark attractions
and today it is a sought after lodging, meeting and convention destination. The Madonna Inn offers an unforgettable experience with fine dining & entertainment, unique overnight lodging, banquet rooms for intimate weddings & receptions, exclusive clothing, gift & wine shops and limo service. Located on the grounds:

110 rooms each with a special them

e, a picturesque European-style pool & state of the art exercise room, a celestial Day Spa and the largest convention center on the Central Coast. Enjoy these impressive amenities...attracting visitors looking for a resort-style retreat just minutes from downtown San Luis Obispo." To visit the site
Click Here.
DO - SLO has a vast variety of things to do. You go to the movies, walk the down town area and find many unique shops. For more information on what to do in San Luis click on a few of the links below which are coming soon.
1. For information on Art Galleries. Click Here
2. For Wine Tasting Click Here
3. Wine Tasting Tours Click Here
4. Free things to do Click Here
5. San Luis Farmers Market Click Here.
6. Hiking up Bishops Peak Click Here
7. Bubble Gum Alley Click Here.

STAY - San Luis has many places to stay but I suggest you use Kayak to get the best rates possible. All of the motels and hotels on the Central Coast of California book up fast. So, make your reservation now with Kayak.
EAT- Foder's Travel Guide says, "Nearly every restaurant or Cafe' has its own personality - from chic to down home and funky" For a complete list of restaurants in SLO



Click Here