Beach Glass!



How would you like to go on a treasure hunt on Moonstone Beach?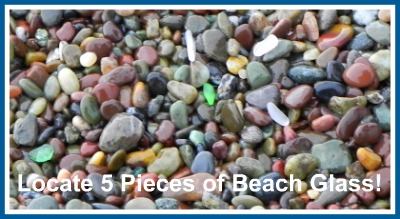 In the picture above there are 5 pieces of beach glass. Can you find them. I will give you a hint. There are two green pieces and three white pieces. Do you see them?
Hunting for sea glass, as we call it in Cambria, is an adventure. It is hard to find and you have to keep your eyes peeled if you are going to find the treasure.
The glass mingles and hides in the tiny rocks but if you look for the bright glimmer of the glass you can find a piece. Sea Glass is broken pieces of bottles thrown into the sea as trash and comes out as polished treasure.
On Christmas morning 2010 my wife and I loaded up the dogs and headed for Moonstone Beach in search of treasure.
It was cloudy, windy and cold but all of us, including our two dogs, wanted to get out of the house and go to the beach. The waves were crashing and the sea was rough but the hunt was on.

The beach glass is normally close to the water and you have to watch the waves coming in or get wet. Believe me, I watch the waves. The water is ice cold year round. I don't see how any one could surf in that icey cold water.

When searching for sea glass you have to keep your eyes peeled or you will miss your treasure for the day. It is best to go when the sun is out but we go whenever we have time.

The best part of hunting for treasure on Moonstone Beach in Cambria is just enjoying the ocean. We love the sea and even iwhen we don't find glass we still love the fresh smell of salt air and the sound waves crashing.

Our friend Amy Reese has been walking Moonstone Beach searching for sea glass for years. She even makes beautiful jewelry from the glass she finds. The picture below is one of her pieces. In fact, it is my favorite piece.

The piece in the picture above is one of my favorite designs. Amy has the capability to create amazing jewelry and she can do specialized designs.
If you would like more information on the subject click here.
Beach Glass
Do you hate riding in a nasty car? Why not get a full detail while visiting on the Central Coast. I highly recommend Bob's Mobile Detailing. You always get a professional detailing with a smile. You can trust this guy to do the best job.

Click on the image or give him a call today.