Avila Beach, California


Avila is an unincorporated little community located in San Luis Obispo County, California. The town is distinctly different from other small communities on the Central Coast of California.

Avila is the home of The Port of San Luis. What makes Avila different from other beach communities is the port, the hot springs and the apple farms located in the area.

The day we visited Avila it was raining which is rare in mid October but we enjoyed every minute of our excursion.

When you visit the Central Coast of California, Avila Beach and the surrounding attractions is a must visit.

The picture below is from Avila Valley Farmers. We had the best time shopping for pumpkins, watching the donkeys, goats and other animals interact with the tourist.

The kids will enjoy a visit to the farm. If you visit in early fall you will be enchanted by all the fresh fruits and vegetables. The farm is more like a fair than a farm. You can take the kids on hayrides and much more. For directions to Avila Beach Click Here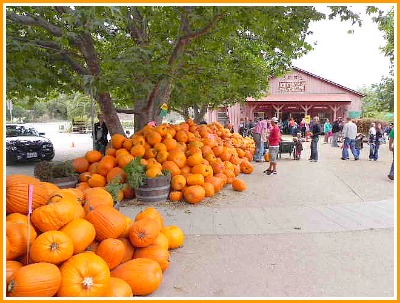 Three Important things To Know!
DO - In the Avila Beach area there are many things to do. You can take a hike or a bike ride on the Bob Jones Trail. You have the Avila Hot Springs you can enjoy.


If you are looking for water sports you can always rent a kayak or jet ski. Sports fishing is offered out of The Port of San Luis. You can go fishing off the pier and take home a few fish for supper.

You can go shopping in one of the many unique shops located in Avila.


For detailed information on things to do in Avila Beach, California click on the links below.


1. Bob Jones Trail CLICK HERE
2. Avila Hot Springs CLICK HERE
3. Kayak Rental CLICK HERE
4. Sports Fishing CLICK HERE
5. Down Town Shopping CLICK HERE
6. Wine Tasting CLICK HERE


STAY -

Do you want to stay in a motel on the Beach? We have a wide selection of motels and Bed & Breakfast. You might be interested in camping in one of the
state parks.
Don't worry there are plenty of places to stay. Vacation rentals are also available. Most of the time our hotels and motels stay book. I suggest you use Kayak to secure a place to stay. In the near future we will make recommendations on which hotel or motel we like the best.

EAT- Fine dining, casual dining or maybe just a quick hamburger, whatever you are hungry for is located in our unique list of eateries. Some of the restaurants will even allow your dog to dine with you. For information on restaurants CLICK HERE

In the future we will make direct recommendation on where to eat but for now we will supply the link above to help you find a place to eat.
Pictures from our adventure to Avila and the apple farms.