Cambria Cappuccino
in Cambria, California is a family owned coffee shop and much more. You will always be greeted with a smile, receive excellent service and
fantastic food and drinks
.
This is the best little coffee shop
in California. You can expect a relaxing atmosphere where you will feel right at home. Quite often you'll hear someone playing our shop's acoustic guitar or see someone enjoying a game of chess while eating a fresh pastry and sipping on a fresh cappuccino.
I personally love the selection of
pastries, donuts
and
fresh brewed coffee
. I like to set outside the shop, with a cup of hot coffee and a sugar donut and watch all the people pass by. You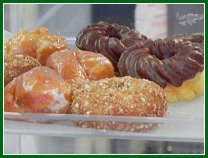 cannot find a more laid back place to surf the net, drink a cappucino and eat delicious desserts. In fact, Cambria Cappuccino is the
only place in Cambria with donuts.
In addition to the donuts you can find
fresh baked pastries
. My wife and I both love the healthy, freshly baked muffins.
1. Coffee - Lattes - Mochas - Cappuccino
2. Ice Cream and Shakes - Various Flavors
3. Juices - Rootbeer Float - Hot Chocolate - Italian Sodas
4. Smoothies and much more.
5. Freshly baked Muffins, Pastries, Donuts and much more.

No doubt, once you have visited Cambria Cappuccino you will always want to return.
For more information, menu and directions click on this link
Cambria Cappuccino
.
I know you will love Rob, Katie and Kelly...
BE SURE TO TELL THEM BOB AND MARY SENT YOU!