Cambria Events, Festivals and Fairs
Blowing in the wind takes on new meaning when you look at this life sized scarecrow made by Val and Gil Eastman of Cambria, California. This was the most unique of all the Cambria Events I have witnessed. The Scarecrow Harvest Festival is a fantastic event and it was a successful event two years running.

The actual festival was held October 9, 2010 but the scarecrows will be on the streets the entire month of October. Ya'll need to come take a look. Some of these things look real.

The Scarecrow Harvest Festival will be an anunal event so make plans to attend next year.

The guy hanging from the pole was one of hundreds of unique scarecrows placed all over town. In fact, the dude hanging from the pole won best of the show prize. He was pretty cool.

If you would like to see all the scarecrows entered in this Cambria Event I am going to supply a link. Ken, a friend of mine built the site and he also helped judge the scarecrows. For a look at all the scarecrows and his great website Click Here.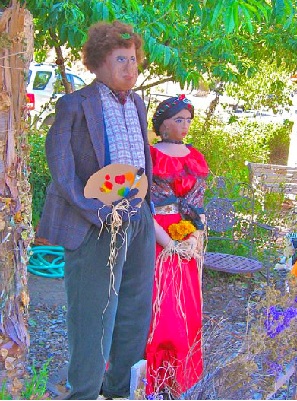 Cambria is one of the most active communities on the Central Coast of California. There is always something going on. If it is not a scarecrow contest it is a wine festival.

If you don't like wine or scarecrows how about the arts. Cambria is a famous art colony. The town is full of various artist of all types, genders and ages. If you like art you need to visit Cambria.

If you are into plays, Cambria has plays. If you are into music of all sorts, Cambria has music festivals. You name it Cambria has it.

List of Cambria Events - Provided by the Chamber.
1. December 1, 2010 ~ Wednesday - Festival of the Trees - If you are looking for a mix of Christmas cheer and Holiday hoopla combined with the joy of giving, you will find it at the annual Christmas Tree & Silent Auction on December 1, 2010. The $20 admission ticket includes wine and gourmet appetizers along with a chance to buy your fully decorated tree at the spirited live auction. Money from sales of trees goes to local charities. Doors open at 6:30 pm Call 927-3624 for information.
2. December 1 - 23, 2010 ~ Wednesday - Holidays in the Pines - Cambria decks out for "Holidays in the Pines" throughout the month of December with an unforgettable display of decorations, deals and discounts. Enjoy holiday lights and decorations throughout the town. Shop for unique "one of a kind" gifts, enjoy fine dining in Cambria's gourmet restaurants, rest and relax at any of the lovely lodgings offering discounts and specials. Join in the festivities and celebrate the Holidays in the Pines—Cambria Pines by the Sea.
For additional information visit:
www.CambriaHolidays.com
3.
December 2 2010
~ Thursday -
Hospitality Night -
Stroll the streets from 5:30 pm to 9 pm and enjoy the businesses of Cambria who open their doors for your enjoyment offering discounts, drawings, food, refreshments, and pictures with Santa. Santa and Mrs. Claus attend tree lighting ceremonies throughout the village. Music, entertainment and festivities all over town. For more information contact the Cambria Chamber of Commerce.
For a complet list of events
Cambria Events Click Here.
If you haven't seen our surfing page you need to take a look. I might even become a surfer and bleach my hair red like I did in the 60's.
Click Here
Planning a visit to the central coast use Kayak to book your hotel or air flight to the central coast.