Lake Nacimiento!



On an adorable Sunday afternoon in April 2011 my wife and I decided to ride over the hill from Cambria and visit the historically beautiful Lake Nacimiento.
The hills on highway 46 between Paso Robles and Cambria were a dark green and breathe taking views abounded in every direction. It had been raining for about a week and the warm temperatures turned the hills into a magnificent green blanket.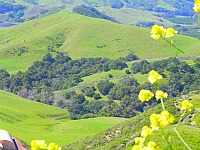 We stopped on Highway 46 and took the picture to the right. The wild flowers were bright and yellow. It was a beautiful day on the Central Coast of California.
After spending a few minutes at the top of Highway 46 we proceeded on our adventure.
Lake Nacimiento is located in the hills not to far outside of Paso Robles, California. The lake is not hard to find. Take Highway 101 to Paso Robles or I-5 to Highway 46 to Paso. Exit 101 at the 24th Street to Nacimiento Lake Dr. (County Hwy G14) Follow G14 16 miles to the resort entrance on the south side of the lake. Actually, it is easiest to just do a google map search.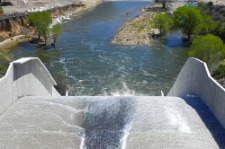 The first place we stopped was the spillway. There had been so much rain on the Central Coast the Lake was running over for the first time in years. I guess the drought is over in California.
We had a hard time finding a place to park because normally people just drive past the spillway, no trill to and empty spillway; Yet, this time the water was pouring over into the river and it was really cool.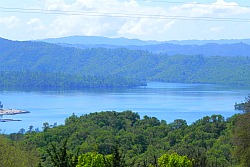 After the spillway adventure we headed toward Lake Nacimiento. We missed the entrance. We didn't know the lake was managed by a resort company contract by the county. Oh well, anyways, we headed up to the top of a hill and took the above picture and then headed back to where we thought the entrance to the lake might be.



We found the entrance and We took some good pictures and soaked up the sun. We let the dogs run and play for a while enjoyed the moments.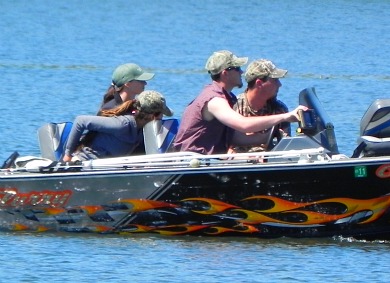 Lake Nacimietno offers a great place to boat, fish and spend the day. The lake was beautiful and the weather was great. We would have to rate this adventure as a A plus. We highly recommend a trip to the lake.
If you are visiting the Central Coast of California and want to spend a day at a fresh water lake this one is pretty neat.
For more information on
Lake Nacimiento