Local Business Center
Cambria, California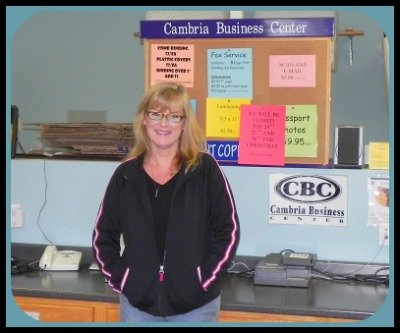 Cambria Business Center is the greatest local business center in the world. Terry Richardson (above) and her husband Tony are good friends of mine and I highly recommend you visit the center for all your business needs. Terry will always greet you with a smile and a warm hello.

If you are on vacation or a day trip to the Central Coast of California you can count on CBC to help with all your business needs.

CBC offers custom packing for all kinds of items.
We have trained packing experts on site to package your fragile or hard to pack items. We also offer custom crating for your heavy or valuable items. If you buy a custom piece of art and want to sure it gets pack right, CBC is your solution.
You Talk about a great local business center. For over 8 years Cambria Business Center has been an Official Authorized Ship Center for UPS-FedEx and ONTRACK. If you have a case of wine you want to ship home, CBC is the solution.

CBC offers computer time rental in the store. They have two separate PC's for you to use with the following accessories:
Internet Access
Mozilla Firefox Browsers
Word Processing Software
Digital Copiers
Laser Printers
Media Card Readers
High Speed CD-Burner
CBC also carrys office supplies, register and credit card machine tape statement and invoice books, envelopes, index cards, pens, etc… They also carry a full supply of printer inks, Epson, Canon and Lexmark. Don't see what you need? They can order it in for you and you can pick it up the next day in most.



Cambria Business Center in Cambria, California click on this link for more information Loca Business Center.


Contact & Hours

:


Monday – Friday 9 – 5
Saturdays 10 – 2

1241 Knollwood Drive
(across from Cookie Crock Market)
Cambria Ca 93428
Phone 805.927.8880 – Fax 927.0384
Web: www.cambriabusinesscenter.com
Email: sales@cambriabusiness.com
Travel Booking Deals
Central Coast Travel Adventures is excited about the opportunity to help you book flights, cars, motels, hotels,and tours. We are here to serve you and make your visit to the coast a visit to remember.
Expedia - If you are looking for great deals Central Coast Travel Adventures aims to please. Get great travel deals on Expedia.ca
Kayak - In addition to travels deal with Expedia we also provide you with options for booking with Kayak -
Compare hundreds of travel sites at once to find the deal that's right for you.

Hotwire - That's not all if you want one more option try Hotwire.com
Central Coast Travel Adventures wants you to get the best deal possible on rooms etc.