Sport Fishing Charters

!




Sport Fishing Charters are a great way to enjoy the Central Coast of California. Have you ever been deep sea fishing? If the answer is no... you don't know what you are missing. Chartering your own private boat is one the greatest adventures you will ever take.

The roll of the sea, the smell of fresh salt air and the thought of catching a big Rockcod, Lingcod or Albacore is part of the adventure. Sport fishing on the Central Coast can be the best part of any vacation plan.

Another term for

sport fishing is recreational

fishing which simply means fishing for the adventure and emotional surge one receives when they catch a fish.

Recreational fishing is a great way to let go of anxiety, tension and enjoy the open sea. And, you get to keep the fish you catch and take it home for an enjoyable meal.


Kids Love Fishing and Sport Fishing Charters

The pictures you see are only half the story. Kids love to fish and actually take great pride in accomplishing a goal. A child also loves the fact they will get to eat what they catch. In this modern day many kids don't associate or appreciate where food comes from. When a kid catches a big fish and realizes the work and skill involved in catching the fish changes their minds concerning their daily diet of fast foods.


The History of Sport Fishing Charters
Wikipedia reports
, "Recreational fishing for sport or leisure gained popularity during the 16th and 17th centuries, and coincides with the publication of
Izaak Walton's
The Compleat Angler, or Contemplative Man's Recreation
in 1653. This book is the definitive work that champions the position of the angler who loves fishing for the sake of fishing.
[

3

]
[

5

]"
Sport fishing has been around for years and chartering a boat to catch fish has been around for years. However, today in this new age charter sport fishing is at a new level. Boast are rigged with new and modern equipment enabling its fishermen and women to locate the fishing hole
I have been out on the best boat on the Central Coast. The Admiral in the picture below is owned by Virg's Landing in Morro Bay, California. This boat is 90 feet long and provides the perfect platform for sport fishing. I highly recommend Virgs if you are looking for the perfect sports fishing trip.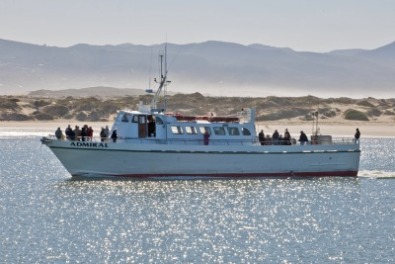 For more information on Sport Fishing Charters Click Here. This link will take you to the best Sport Fishing Charters Company on the Central Coast of California.

Travel Booking Deals
Central Coast Travel Adventures is excited about the opportunity to help you book flights, cars, motels, hotels,and tours. We are here to serve you and make your visit to the coast a visit to remember.
Expedia - If you are looking for great deals Central Coast Travel Adventures aims to please. Get great travel deals on Expedia.ca
Kayak - In addition to travels deal with Expedia we also provide you with options for booking with Kayak -
Compare hundreds of travel sites at once to find the deal that's right for you.

Hotwire - That's not all if you want one more option try Hotwire.com
Central Coast Travel Adventures wants you to get the best deal possible on rooms etc.