Cambria Walking Trail

!


Cambria Walking Trail - 3/13/11 by Bob Wilkerson

This was the coolest adventure ever. Well, maybe not ever but we had a great time. Take a look at the video above, if you haven't already, and you will see the smiles on our faces. We love adventure.

This time we had a few friends join us on our hiking tour and they loved the adventure as much as we did. We took the dogs, kids and down the street we surged.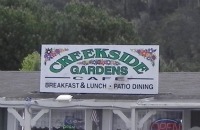 We started our journey at Creekside Gardens, a little breakfast nook in Cambria. A great place to eat breakfast. After filling up on Pancakes and eggs we headed out in search of a supposed new trail in Cambria. What it turned out to be was an old trail with new boundries.

We walked down Main Street to the Black Cat Restaurant where the new trail was suppose to begin and headed off down a trail.

We crossed a cool little bridge with the Santa Rosa Creek flowing under it and ended up in a meadow. It didn't appear to be a trail in this area so we headed back to main street. Were was the trail? We weren't lost because we live in Cambria but we couldn't locate the trail.


We always take the dogs with us because they enjoy the walk and adventure as much as we do. In the picture above you can see our friends Wayne, Robert, Adrian, and Janie Crabtree. It was a pleasure having company on our hike.
Now we were in full stride looking for the walking trail. We walked down main until we came to the first light in the West Village. We crossed highway one or the Pacific Coast Highway.
We headed North down the side of the highway until we came to Windsor. We followed the road down a bit and found the mouth to Santa Rosa Creek Trail.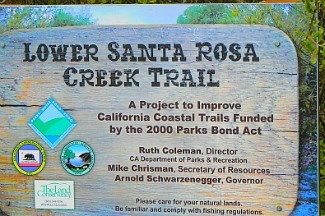 We had walked this trail before but had never walked the entire way so we headed out down the beautiful little walking trail.
We let the dogs off the leashes and headed out. It was beautiful beyond description. The grass and foliage was a green as green can get. The creek was bubbling and the air was cool and crisp.
We still didn't know exactly where the trail ended but we kept on walking.
After about a mile we came back to highway one. We crossed the road into a spectacular green meadow.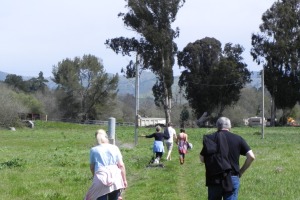 By this time, jackets were off and we were starting to wear down. I think we might have walked about 5 miles maybe more. The odd thing about this adventure was we ended up right back at Creekside Dinner.
If you are visiting our wonderful town we suggest you try this walking trail. Now, we are not sure exactly were it started but for us the journey was the adventure. Have a great stay in Cambria, California.
For more information on this
walking trail
and Cambria just click on the link.